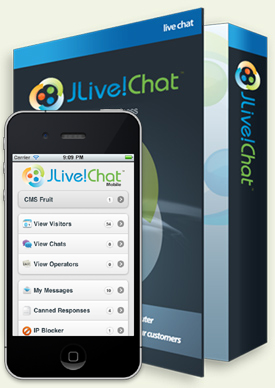 compatible with



This software allows you (the website operator) to be able to provide livechat support to your website's visitors right from your desktop or mobile device. You can use it to communicate with your clients, or start an instant messaging community for your website. Engage in pro-active chat sessions with your visitors and monitor your website activity in real-time. View detailed information about your visitors including their geo-graphical location, referring website, pages they have visited, and more...

With a quick and easy three step installation, you can be all setup within a few minutes. No server configuration changes needed and you don't need any technical skills. There are no hidden costs or fees!
Download Now
Quick & Easy
3 Step Installation
Step 1

Download and install software.

Step 2

Register and dowload your operator access key.
That's it, you're all done!


Features Included
Livechat from your desktop - Communicate with your customers right from your desktop.
Unlimited operators and computers - You can create as many operators as you like.
Unlimited concurrent chat sessions - You can chat with as many people at the same time as you like.
Monitor your website activity in realtime - Monitor and view in-depth information on your website's visitors.
Pro-active chatting - Operators can engage in chat sessions with any visitor.
Supports multiple websites - Livechat for all your websites from one application.
Route livechat requests - Pre-define which operators will receive a request based on a criteria or by page.
Ring operators simultaneously or in order - Ring all the operators at the same time or ring operators in order.
Leave messages when offline - Your clients can leave a message when you are offline.
Typing status notifications - Displays realtime operator/client is typing status notifications.
Transfer chat sessions - Transfer chat sesisons between operators.
Email session transcripts - Send the entire livechat session transcript in an email.
SSL support - Use secure encrypted communication.
Global and user-defined canned responses - Pre-define common responses for operators.
Identify registered users - View a users registration details.
View Chat History - Search or browse chat session history.
Customizable Look & Feel - Completely customize the look and feel with CSS.
Operators in different locations - Operators can be located in different geo-graphical locations.
Operator to operator chat - Chat with other operators.
Operator Permissions - Assign specific permissions to certain operators.
Proxy support - built-in proxy support.
Portable - Easily take your live support with you from location to location.
Professional user-friendly interface - A professional, easy to use interface for you and your clients.
Easy & quick installation - You can be all setup within a couple minutes!
Supports many languages - Including: English, Czech, Chinese, Dutch, French, German, Hindi, Italian, Indonesian, Spanish, Japanese, Portuguese, Russian, Romanian, Malay, Polish.
Compatible with Windows, Mac, and Linux!
Lifetime support & updates included - Lifetime support and automated free upgrades to newer versions.
High Performance Network - Runs on our highly optimized network with load balancing and fail-over with a 99.99% uptime guarantee.
Our Packages
JLive! Chat


Personal

JLive! Chat


Small Business

JLive! Chat


Corporate

JLive! Chat


Unlimited

Number of Operators
Only 1
Up to 25
Up to 50
Unlimited

Personal

$49

Yearly fee per instance.
bulk discounts!
Small
Business

$99

Yearly fee per instance.
bulk discounts!

Corporate

$129

Yearly fee per instance.
bulk discounts!

Unlimited

$149

Yearly fee per instance.
bulk discounts!
Add to Cart
Add to Cart
Add to Cart
Add to Cart
Optional Plugins
JLive! Chat - Custom Field Plugin -

$19.99

This plugin allows you to display a custom text field and/or terms and conditions checkbox on the livechat popup window before the chat session is started.


Frontend
Screenshot

Backend
Screenshot

JLive! Chat - Countdown Timer Plugin -

$19.99

This plugin allows you to display a countdown timer in the right hand corner of the livechat popup window with the option to perform an action on expiration.


Frontend
Screenshot

Backend
Screenshot

JLive! Chat - Operator Radio List Plugin -

$14.99

This plugin allows you to display a radio list of online and/or offline operators to initiate a chat session with in the livechat popup window.


Frontend
Screenshot

Backend
Screenshot

JLive! Chat - Auto-Operator Plugin -

$14.99

This plugin allows you to automatically create a new livechat operator for each new registered user.


Backend
Screenshot

JLive! Chat - Chat History Eraser Plugin -

$9.99

This plugin provides a PHP script that can be executed from command line to clear all livechat history.



Are you a developer?
Earn cash by developing and listing your custom JLive! Chat plugin on our website.
Contact us
for more information on our
Plugin Developer Program
.
Customer Reviews





November 27, 2011
Best iPhone App, Best Customer Service, Fantastic product!!!!
Okay, I will just start this from start to finish. So I did a lot of searching the internet for the right live chat support software. I first came across LiveZilla. Ive used it for about a month, but there are some flaws, it doesnt have an iPhone app for one, it has one made by a 3rd party company but it is terrible and way to many bugs. I decided to do more searching. What I did was just search the Apple store for livechat software. I cam across Jlive. I checked it out on the internet but had some questions. I was able to get live chat assistance from John. Wow this guy is amazing. I chatted with him before making the purchase for about 30 minutes, he answered any question I had. Nextly after the software was purchased I installed Joomla to my server because my website is non joomla but i installed joomla in another folder so I could use this software. I had some difficulties tweaking my html code. I emailed John and he got back to me on a SATURDAY NIGHT! Talk about customer service!!!! This should be his day off but he was kind enough to help me, not to mention it was about 12:00 AM! I am more than happy with this software. It is great! I am looking forward to customizing a few things which, John also gave me a few pointers on that.. Anyway, to sum this up I couldn't be happier with the product, the iphone app, the customer service and the experience that I have had. John treats you like a friend! Thanks John!!
---





May 23, 2011
Exelente!
Exelente me demore 5 min desde realizar mi cuenta hasta realizar mi compra.
---





November 16, 2010
Great Support...Great Product
Support is definitely A+. I had an issue that I know I could not work out on my own. I contacted support by leaving a message. Within 30 minutes my problem was solved. I am quite happy with the software as well. It works as explained and as long as its set up right their is no issue. Great job team. I give 200%!!
---





October 26, 2010
software is really great and flawless
Your product is really excellent... as i am one of tech guru.. i love your product

thanks!
Ramesh from Boston
---





October 16, 2010
Simple. Easy. Great product.
Simple. Easy. Great product.
---





March 6, 2010
Excellent, great product, great support.
Excellent, great product, great support. I said I would do business with them again, I just didn't expect to be a week after the first purchase. I showed the live chat to another of my clients and they just had to have it as well. I expect to be purchasing many more soon. Thanks
---





March 4, 2010
one of the best hosted chat solutions available
I was happy to see a Google Checkout option at CMSfruit.com, they are one of the best hosted chat solutions available and so easy to use and extremely affordable. Thank you CMS Fruit for making my checkout simple, quick, and easy with Google Checkout. Cheers
---





January 30, 2010
AMAZING software! TOP QUALITY!
JChat is an AMAZING software. TOP QUALITY, Nice work folks!!!
kelpradio.com in EL Paso, Texas
---





November 29, 2009
Excellent software, a lot of bang for the buck
This software is awesome.
Easy to deploy, user friendly, very accurate.
These group are innovative and very customer service friendly.

You are not spending 20 bucks a month to track, you are getting a lot for your bucks.

Their customers support is excellent too.

I am recommending this to all our business owners at Women Are Dreamers Too.

Keep up the Good Work CMS fruit.
Community, You NEED this awesome software
You are tacking site visitors in secs, responding to live chats in realtime, you are in and out of your sites is secs.

Test drive and you will agree, buy and you will wonder how you ever lived without Them
WE LOVE YOU CMS fruit

-Cindy Williams, Ph.D. fro WaDt
HIGHLY RECOMMENDED, I am linking our site to them.

Happy Holidays CMS fruit and long live CMS fruit
---





November 5, 2009
Running smoothly for ages
I have had this program on my site for months now. Runs like a treat. No issues at all. I have installed several of the upgraded versions without a hick up. Multiple chat sessions works fine. Very happy thank you.
---





October 25, 2009
my experience
Hi,My first time installing a chat module. First, I have tried the free ones, without success, I am a newbie, I need simple stuff. I, finally, decide to buy one. I needed 15 minutes and everything worked out ! translation included. 2 weeks after, I needed to re-install a backup of my site and I had problems, I have contact JLive Chat and I got a real fast service, exchanging some emails till everything was ok. Excellent module and Excellent service. Robert(Quebec)
---





June 4, 2009
Works well + outstanding support
I had some problems getting the chat system to work, but the JLive Chat team was extremely responsive and helpful in working with me to overcome the problems. The system now works fine for me.I have looked at a number of other commercial chat solutions and for my client's requirements I believe JLive Chat is an outstanding value compared to all of the others.
---




April 10, 2009
Great Support
Support was near-instant. I had trouble getting the module to work, and John spent countless emails guiding me through the process. In the end, I was dealing with a minor bug. A refund was issued without any problem. An updated version is expected in one week, but I didn't have time to wait. The software looks promising. (Especially compared to what is available out there!)
You can post a review here.